, 2023-03-13 08:07:00,
Try an RS800
by RS800 Class 13 Mar 13:07 UTC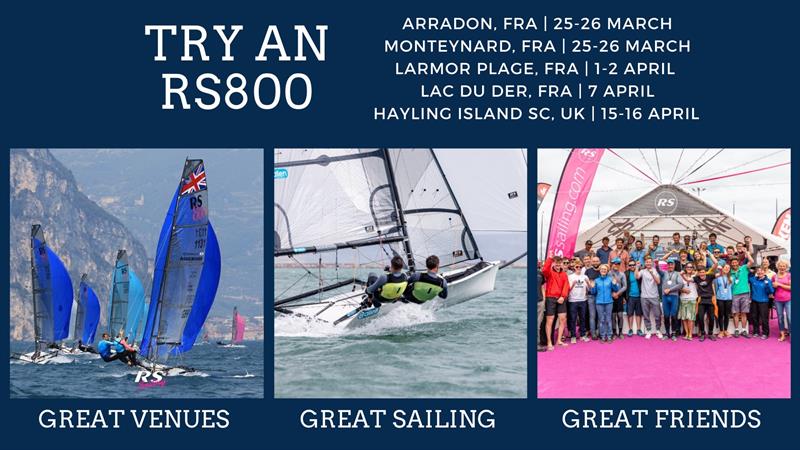 Try an RS800 © RS800 class

2023 is an exciting year for the RS800 class. With a trip to Torbole, Lake Garda for the European Championships on the horizon and fresh energy in the class we are ready to go and keen to showcase what it is all about.

Over Spring 2023 we are pleased to be able to offer multiple 'Try an RS800' experiences across Europe. If you are interested in getting a taste of RS800 sailing then please reach out to the relevant contacts:
25-26 March @ Arradon, France: Mark Johnson, +33688119769
25-26 March @ Monteynard, France: Alexandre Emanuel, +33603393401
1-2 April @ Larmor Plage, France: Gilles Peeters, +33760483669
7 April @ Lac Du Der, France: Gilles Peeters, +33760483669
Alternatively, you can fill out this form to quickly express interest in any of the above and we will be in touch: forms.gle/R6bh8dgapp3aUvdS7

Ben Palmer has been sailing RS800s for three years and has recently joined the Class Committee to help us better understand our fleet with some recent survey work. There is no better person to talk to when trying to understand the appeal of the boat with current…
,
To read the original article from www.sail-world.com, Click here
Private Internet Access gives you unparalleled access to thousands of next-gen servers in over 83 countries and each US state. Your VPN experience will always be fast, smooth, and reliable.