, 2022-04-22 02:00:00,
The secretive world of superyachts is the ultimate in billionaire excess, where tycoons cavort with celebrities, politicians and sex workers, and where privacy is protected by non-disclosure agreements ensuring absolute discretion from well-paid staff.
Insider accounts are rare, but as owners and their crew come under scrutiny like never before after Russia's invasion of Ukraine, a captain who has worked for some of the wealthiest boat owners has come forward to share details of his 15 years at sea.
His account is of a world that is both showy and shadowy, with weekly food orders worth more than €40,000 (£33,000) flown in from Paris, expensive morning-after clean-ups to remove traces of party drugs, and what he sees as an ingrained culture of prostitution and sexism.
The captain, who has sailed throughout the Caribbean and Mediterranean yacht hotspots, said he wanted to highlight how rich owners – and particularly Russians – hide behind a "mess of shell companies" in secrecy jurisdictions such as the Marshall Islands or the Cayman Islands.
As western allies have curbed the financial freedoms of oligarchs who surround Vladimir Putin with sanctions, yachts have become key targets. Among those impounded are the 86-metre Amore Vero, which French authorities believe belongs to Igor Sechin, head of the Rosneft oil company, and the 156-metre Dilbar, thought to be owned by metals billionaire Alisher Usmanov (although both have denied ownership).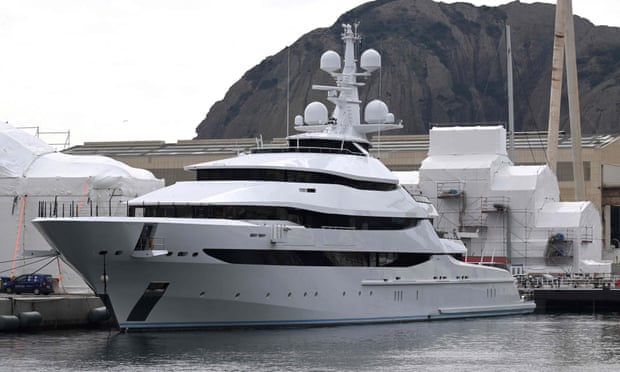 "They're operated in a super-secretive way so they can use them and deflect attention from the ownership," said the captain, who asked to remain anonymous because he had signed confidentiality agreements. He said he had not worked on any of the seized yachts.
In some cases non-disclosure agreements are mandatory to even interview for a job, he said. The Guardian was shown examples of actual yacht employment contracts: one contains detailed clauses forever barring the disclosure of any information about the identities of the owner or any guests – specifically including references to business documents, photographs and even drawings of the boat.
Posting photographs of the yacht on social media can be a firing offence, and talking to the media is strictly forbidden. Another contract shows employees must consent to polygraph lie detector tests if required.
,
To read the original article, go to Click here