, 2022-10-15 01:00:00,
A version of the Ritz-Carlton hotel chain will take to the seas on Saturday offering 298 passengers – paying a minimum of £5,020 a week – a cruise holiday designed to ape life on a billionaire's superyacht.
Evrima, launched by the five-star Ritz-Carlton hotel chain, boasts a restaurant designed by a three-Michelin-starred chef, "dedicated personal assistants", four pools, a champagne bar, humidor (cigar room), nightclub and even "non-surgical facelifts".
The yacht will embark on its maiden voyage from Barcelona, Spain, to Nice in France, on 15 October after a three-year delay caused by the Covid pandemic and the supply chain crisis.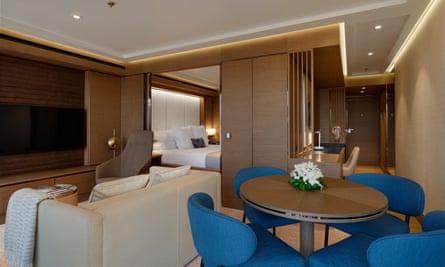 Despite being launched amid a cost of living crisis and surging inflation, the company says it has been overwhelmed by demand, with almost all cabins sold out for this winter's trips around the Mediterranean and the Caribbean.
Evrima, which means discovery in Greek, is the first of three luxury yachts Ritz-Carlton has ordered as it seeks to capitalise on wealthy people's desire to experience something akin to billionaire's lifestyle on board their superyachts.
Tickets for Evrima's first seven-night cruise, which takes in Palma de Mallorca, Saint-Tropez and Antibes before ending in Nice, start at a minimum of £5,020 although…
,
To read the original article from www.theguardian.com, Click here