, 2022-06-02 02:00:00,
Roman Shipyard Canados keeps strengthening its position on the market of fast open yachts with the announcement of a new model, the Gladiator 571 Blade.

Just presented to its dealer network, the first four Gladiator 571 have been reserved. The Gladiator Line consists of 7 models from 41' to 96', models capable from 37 up to 85 knots.
The new Gladiator 571 Blade remains loyal to the Gladiator/Canados D.N.A. and will have an excellent weight to power ratio allowing for reduced consumption per nautical mile, modern and aggressive yet elegant timeless design and gigantic outdoor living space. 
The exterior design of the Gladiator 571 Blade is the result of a close collaboration between Canados Engineering and young Roman design firm Satura Studio.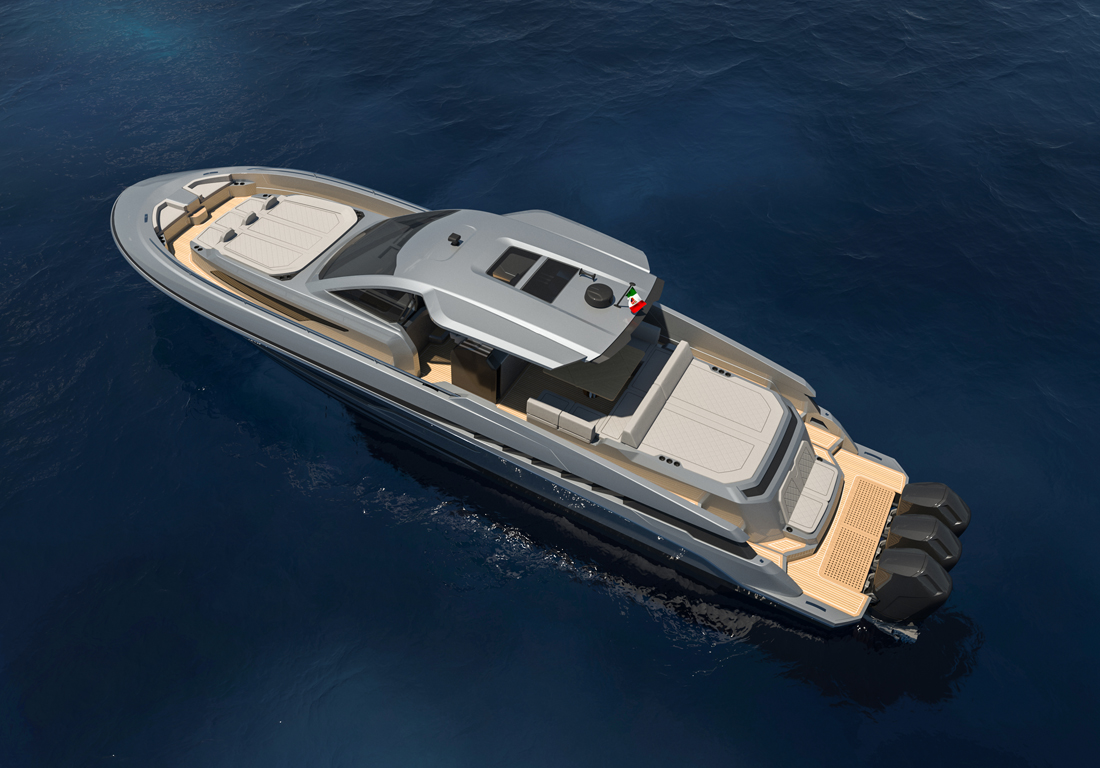 Canados extrapolated the 571 design from one of its best sellers, the Gladiator 493, of which it retains the most successful features such as gigantic aft and fore sun pads, fore deck built in loungers, central steering position.
While required to keep the family style, Francesco Viola, the head of Satura, was asked to incorporate new features such as the reversed sofa above the swimming platform to appeal to watersports addicted clients, cockpit's side fenders lockers, built-in foredeck reversed armchairs, and a generous tender garage.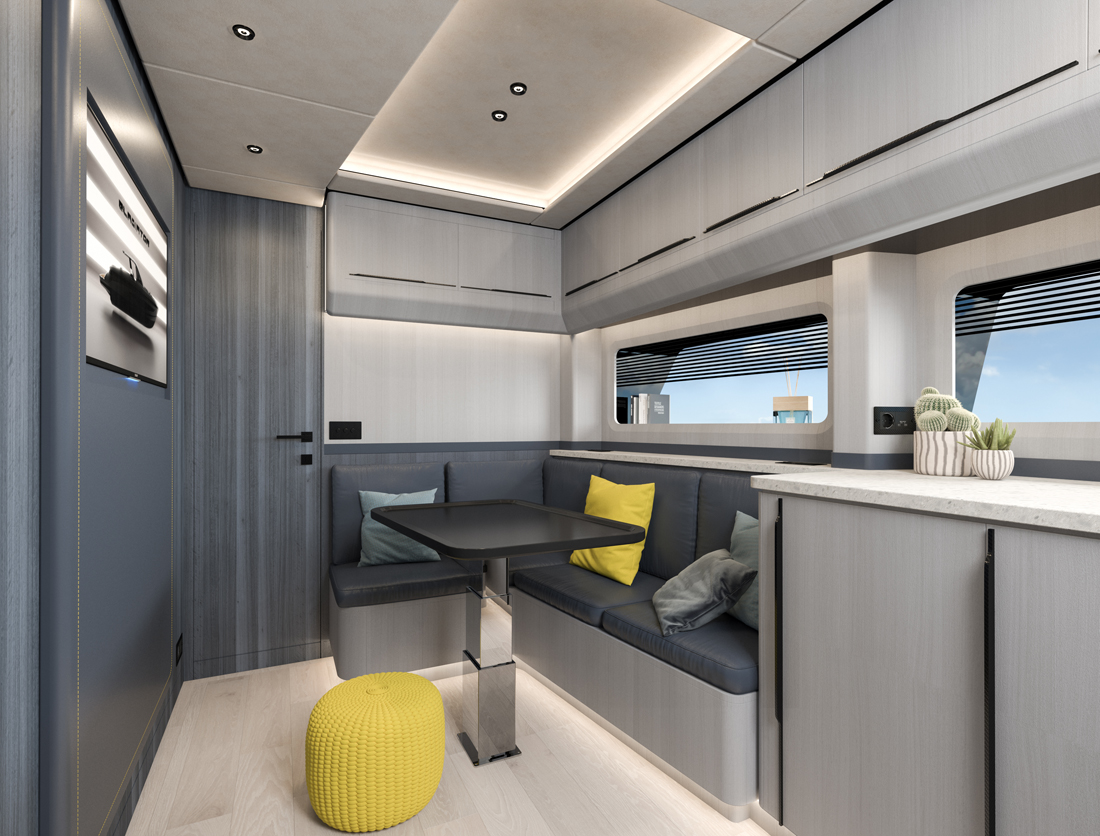 The interiors of the 571 Blade were left to Satura's choice in terms of architecture. They opted for a somehow automotive style while still allowing the Canados carpentry division enough latitude to express their art in the details and unlimited choices of wood essence, finish, inserts and so on. Here too, the Gladiator's philosophy is to let an owner express him/herself in the style, décor, material, colors or fabrics of his/her boat. As usual onboard a Gladiator, all the upholstery is made of Poltrona Frau® premium Italian leather, the same used by Ferrari for its seats.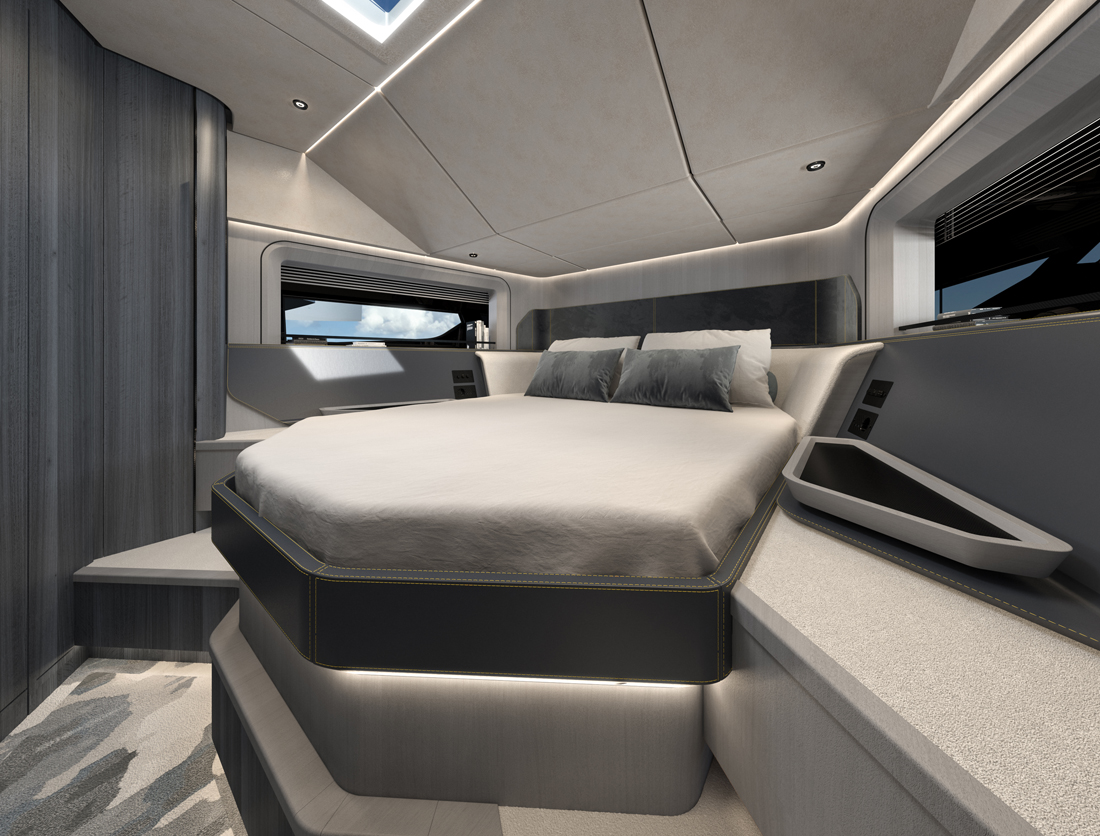 The Gladiator 571 Blade is offered with three different layouts, with no supplement: 2 cabins, 2 baths, saloon and captain's cabin; 3 cabins, 2 baths and saloon; 3 cabins, 2 baths and captain's cabin.
But the most challenging part of the design process has probably been to retain the purity of a modern-classic design when creating the outboard version which, equipped with 3 or 4 of the new Mercury V12-600 hp engines, would still look sexy. Incorporating in the design a one-piece hardtop and double curve windshield was also not an easy task.
Circulation onboard was another…
,
To read the original article, go to Click here