, 2022-07-31 17:00:00,
Beginning a Winning
by John Curnow, Editor, Sail-World AUS 31 Jul 18:00 EST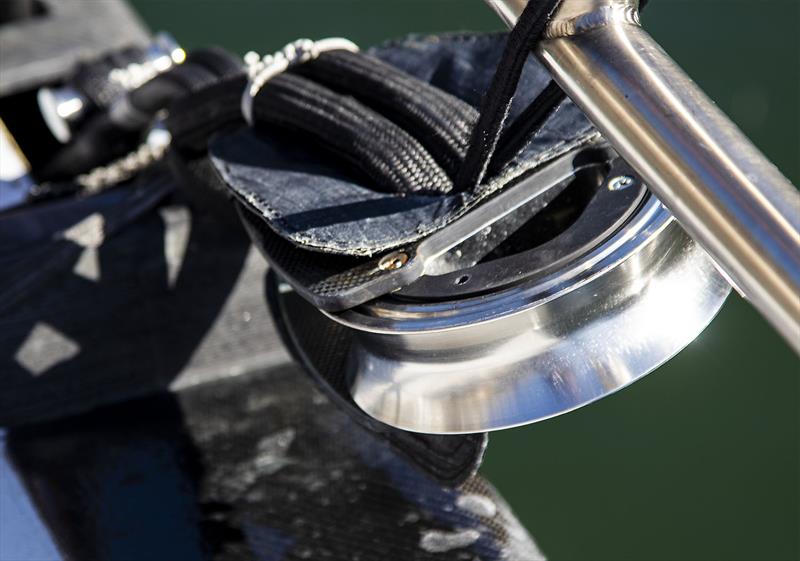 Big boats require big gear. Really big! Kite block on Andoo Comanche. © John Curnow

Could also have been winning from the beginning. Either way I was able to seriously consider all that it takes to get into yachting, and the very essence of the difference between being a participant, and taking home the silverware. For that, I am exceptionally grateful to the Winning Group for affording me the opportunity to get right up close and personal with Andoo Comanche the boat, and just as importantly, the team. We already know just how awesome the boat is, and it is a distinct pleasure to report that the team, it's esprit d'corps, and general demeanour are just as much on par.

So the occasion was the start of the 2022 Noakes Sydney Gold Coast Race. The location was Woolwich Dock, and the coffee was brilliant, as too the croissant and fruit salad. Champagne and cocktails were on offer, not for the crew of course, and a dazzling array of scrumptious finger food appeared and got dispatched about as swiftly as the boat takes care of nautical miles on a beam reach in a blow.

0900hrs was kick off, and it was certainly game on. A briefing from key members of the team, including Skipper John 'Herman' Winning, and Sailing Master Iain Murray AM, preceded a preview screening of a new documentary. Then it was time to crawl all over the beast, pretend to be a bowman again (very pretend), or simply marvel at the shear size of everything.

It was no secret that it was going to be a light race. Dead light, actually, and the start was certainly going to be snakes and ladders. Both Andoo Comanche and Hamilton Island Wild Oats XI took off down the Harbour for an arm wrestle, but soon the sticks were vertical, their marvellous zeros were furled, and they were steaming back down the Harbour in readiness for a start into the unknown. Swiss Cheese may have vacant spaces, but Winter transitions on the Harbour have potholes large enough to swallow boats. And it did!

Being a driftathon had its benefits for me, as I took in all that was available on board JBW that I was kindly ferried to by Mike 'Star Wars' Jarvin after I missed the boat, literally. The conviviality continued in the same vein, and our Skipper piloted superbly, which is not so easy when the foredeck…
,
To read the original article, go to Click here