, 2022-06-18 12:17:00,
2022 Argentario Sailing Week at Yacht Club Santo Stefano – Day 3
by Tessa Wiechmann 18 Jun 13:17 EST
15-19 June 2022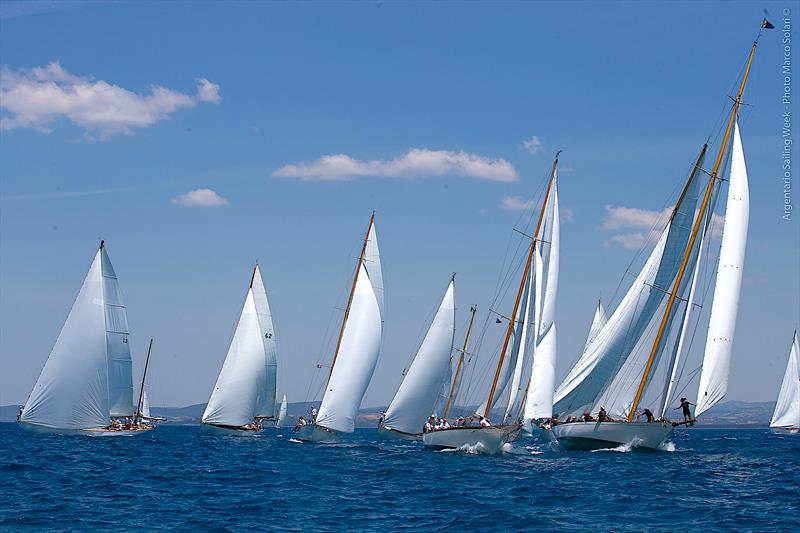 2022 Argentario Sailing Week, day 3 © Marco Solari

Once again, ideal racing conditions for the third day of the 21st edition of Argentario Sailing Week.

After allowing the thermal westerly breeze to build up at 10 knots, the race committee set up the 20-mile course on the Argentario Bay under sunny skies and calm seas. Fair-weather clouds, the occasional cover, wind shifts and gusts up to 15 knots made racing tactically challenging: a veritable playground for sailing enthusiasts. Tomorrow, Sunday 19 June, last day of racing.

The Vintage Gaff class was first to start at 12.25 p.m. with the fleet heading towards the town of Santo Stefano on starboard tack. Next, the Vintage Marconi class: by then the breeze had picked up a few knots and shifted right, so the fleet split evenly.

The Classic and Spirit of Tradition classes sailed up the right hand side of the course towards the windward mark set at 1 mile from the start. Seeing the 30 Grandes Dames tacking on the lay line in front of the ancient harbor of Porto Santo Stefano was simply as stunning as seeing the fleet on the run, spinnakers flying and bows on the pristine beach of La Giannella. Later in the afternoon, the breeze started decreasing and the Race Committee headed decided to shorten the course.

After two and half hours of racing, at 3.06 p.m., majestic Rowdy designed by Nathaniel Herreshoff in 1916 and owned by Donna & Howard Dyer was first to cut the finish line.

"Why Argentario Sailing Week? We simply love coming here and wouldn't miss it for…
,
To read the original article, go to Click here